This love that's in between us It never used to feel this Feels so heavy Can't get up off the ground It's weighing us down All these things we said that we never meant Are we gonna let them hold us down? Down 'Cause baby it's too heavy This love that's in between us We never used to feel this Feels so heavy Can't get up off, can't get up off the ground It's weighing us down, down, down Na na na na no, no, no, no, no, no, no, no So heavy When did it get so, when did it get so heavy?
Envie pra gente. Recomendar Twitter. Playlists relacionadas. Mais acessados.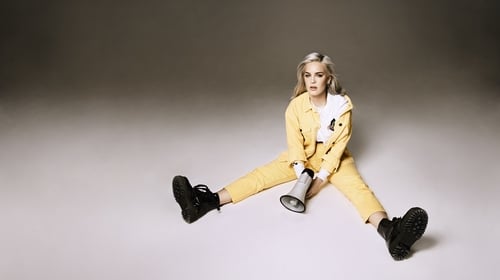 Aplicativos e plugins. Mobile Android iPhone Windows Phone. Desktop Google Chrome Windows 8. Plugin W.
O2 Academy Sheffield. Tuesday, 28 May 12222 at 7:00 PM
BBC News. Retrieved 9 December The Guardian. Capital FM.
Nina, the Bandit Queen.
Anne-Marie (singer) - Wikipedia.
Teardrops of War;
Speak Your Mind.
LAffaire Bagnères (French Edition).
AIUTO! Il mio matrimonio è in crisi (Italian Edition)!
De lusage du Coran (Essais) (French Edition).
Official Charts Company. Retrieved 14 August Irish News. British Phonographic Industry. Retrieved 5 March Eurosonic Noorderslag. Archived from the original on 26 October Retrieved 26 October Digital Spy. Retrieved 26 November Retrieved 13 February Retrieved 2 May Retrieved 15 January Music Week. Retrieved 7 July Retrieved 12 June Retrieved 21 February Speak Your Mind. Categories : births Living people English female singers English female karateka Asylum Records artists Atlantic Records artists Musicians from Essex Shotokan practitioners English people of Irish descent 21st-century English singers 21st-century women singers Warner Bros.
TRACK-BY-TRACK ALBUM REVIEW: Anne-Marie - 'Speak Your Mind' - CelebMix?
CAPITALISMO PARA NIÑOS (Spanish Edition)?
Anne-Marie Confirms Debut Album 'Speak Your Mind' | News | Clash Magazine.
Evaluation anhand von Vergleichsgruppen (German Edition)!
Anne-Marie has dropped her eagerly-awaited debut album 'Speak Your Mind'.
Anne-Marie: Speak Your Mind review – less upfront than it wants to be.
User Content Moderation Menu.

Hello, friend! I hope this blog finds you well and with a great big cup of coffee! I would be dishonest if I did not share with you that as I write this it is currently at night, and I am enjoying the most delicious vanilla sweet cream cold brew! As a sixth grade teacher and a volunteer serving in college ministry, the summer presents itself as an invaluable time. I am intentional to rest and recuperate, but also in preparation for the new school year. I begin to pray and ask the Lord what new and exciting things He will do.

I celebrate as I recall His marvelous works the year prior, and recount the ways He provided, opened doors I thought were sealed shut, and gave us opportunities I could not have asked nor dreamt of. I also bring to the Lord the areas I may need wisdom in, situations I felt were challenging, and things I feel we need to do differently or completely get rid of.

Without failure, the Lord meets me in this time of dreaming and visioning for the new year. I am filled with a new hope, new excitement and joy, and a new vision for how we can show the unconditional and unimaginable love of our God to our campus. As the topic for this blog began brewing in my mind, I was reminded of James For so many of us, we expect the same from the Lord that we have received or encountered with people.

Circumstances with influential people in our lives begin to influence the lens through which we see our Heavenly Father. It becomes easy, even natural, to question if we deserve what we seek from the Lord, or if Jesus is truly faithful to give as generously and freely as He has promised. It is for this reason I am so thankful for the Word, and the wisdom James received and shared.

Annemarie Kocab

The Lord is faithful to give to you generously and without finding fault; not because He gains anything, but because He made you, He loves you, and He is pleased with you. If you question this, I challenge you to put it into practice. Seek the Lord, be open to Him doing a new thing, and watch as He amazes you with His faithfulness. I am so excited for the new things the Lord will do this year.

I am seeking Him as I embark on the new challenge at my job in doing math centers to improve learning opportunities for my students. Excitement fills me as the leaders and advisers of Saint Rose BASIC begin a whole new structure to our weekly meeting schedule read on below if you are interested to see what this format will be. And I am filled with joy and wonder in the new thing the Lord has for you! My friend, I want to encourage you that there is new vision for your future, your family and your life.

The Lord promises to do a new thing, and I believe that is possible for you regardless of your season of life. I pray you seek His face diligently knowing that although change may seem difficult at times, you have a God who is so passionate about you that He would never leave you nor forsake you in the midst of these changes Deuteronomy and Hebrews Starting in the fall, we will run our meetings in a four week rotation, as follows:.

Week 1: Meeting will include a worship set of three songs and a message from an in-house speaker, like our advisor. This is done so that anyone who missed the week prior will not be left out of the small group discussions we will be transitioning to after the summary. Small groups will be led by student leaders who will have focus questions that will build off the week prior. We will end our meeting with a social activity of some kind. The plan is to get guest speakers from our sponsor church to help our students get even more connected.

Anne-Marie (singer)

Week 4: On the final week, we plan to have a fun get-together. We chose to incorporate this into our meeting schedule for several reasons. Additionally, our leaders work so hard and pour so much of themselves into the bi-weekly leaders meetings, weekly BASIC meetings, getting together with students, and their own personal to-do lists and responsibilities. Oftentimes planning additional events on top of this can be too much for our leaders.

Words cannot express how excited I am with the changes we are making! I hope to update you on the progress of this shift in the future. I t comes the very moment you wake up each morning. All your wishes and hopes for the day rush at you like wild animals. And the first job each morning consists simply in shoving them all back; in listening to that other voice, taking that other point of view, letting that other larger, stronger, quieter life come flowing in.

And so on, all day. Standing back from all your natural fussings and frettings; coming in out of the wind. The chills of the rain and wind ruin what I believe the beauty of this May afternoon should be. Rather than warming up with a hot cup of something delicious, I choose to stay cool and go for my favorite lavender and ginger latte Sounds crazy, but you MUST try it!

I wait patiently to be joined in this quaint coffee shop by an old friend, where there will be full conversations, endless laughs, and words of encouragement that bring hope to my soul. My name is Anna Marie. I love coffee, Jesus, my wonderful husband, teaching my sixth graders, and my house tiger, Rajah not necessarily in that order. You and I may never meet, but I hope the connections that will be made through the words typed across this page, and the pages to come, will bring you encouragement, hope, vision, useful and applicable tools, and of course, the desperate need to try a lavender and ginger iced latte as seen on the left.

Something I have been longing for. I mean the rest that comes from being in the quiet place—the presence of the Lover of My Soul. I long to return and to stay in this place of deep rest. Encountering Jesus at 17 has forever changed the course of my life as I joyfully grabbed His hand and accepted the journey of a lifetime. I have an amazing church, friendships that encourage me to grow, mentors who are always there, students who make me see all of the good I can do and all that needs to go , fulfilling ministries, a husband who is truly the Aladdin to my Jasmine, and a cat who completes our magical family.

In the midst of all of these good things, it is easy to become distracted by what the Lord has blessed me with and miss the times where I need to enter into His presence.

Anne-Marie: Speak Your Mind review – less upfront than it wants to be

Is there anything keeping you from entering into that quiet place? A busy schedule? Pursuit of goals?

Family obligations? Whatever it is, I pray we overcome these obstacles that would keep us from fully entering in and knowing the peace of the Lord that passes all understanding Philippians This rest—His presence, is what will change our hearts and minds. As we commune with our Heavenly Father, our lives will be changed. Our classrooms, dorm rooms, and college campuses will be changed. Families and relationships will be healed. Generational ties will be broken. Destinies will be realized. We will know who we truly are and who we were made to be in our Lord and Savior, Christ Jesus.

I pray You would increase their hunger to know Your character, Your heart, and Your thoughts. Continue to pursue them in this life and bring them to amazing places and opportunities that reflect Your goodness and heart for them. Help them to enter into the life giving rest of Your presence.

Author: Anna Marie Magyar 10 active posts. I can love an forgive others because He first loved me. Have the advisor preach Adopt a student Have a family in the church who is committed to reaching out to students by inviting them over dinner or sending an encouraging message throughout the week Prepare a care package for the Fall This can be simple Example: snacks, gum, and an encouraging note Open mic night at the church Students and church members Involve church in fundraising for BASICCON, or other college events Pancake breakfast, or a spaghetti dinner where students serve and cook Providing practical ways for BASIC students to serve in ministries within the church These are just a few ways you can further connect college students to the local church!

God sees great value in friendships and their quality. Welcome ! The solution, our starting place, is always the same: seek first. Our role is not to stress over our needs, but to start by seeking Jesus first. We can choose joy. Jesus teaches us how to lead. We lead people who will go on to influence a culture desperate for God. And this is when the Lord spoke to my heart. He brings us through the waiting with purpose.

Although the waiting season can be challenging, if we are willing, God will use them for our good.